Eagle Rock
Site Info
SE Launch: faces 160 degrees. (N: 37° 37.889'; W: 079° 49.901') or (37.631483 -79.831683)
Elevation : 2227; (350--900 AGL)
Please park in the parking lot or in the woods. Do NOT park on the launch.
NW launch: Faces 325 deg. (N: 37° 37.958'; W: 079° 49.798') or (37.632633 -79.829967)
1240 AGL, 675 ft to bail out LZ
A common meeting place is the SE LZ ("Frank's field"): 37.619216° -79.834685°
There are several LZ's for the NW side, not all of which are always open (crops, etc). Check with local pilots to find out which are the current active NW LZ's
(click on image to expand)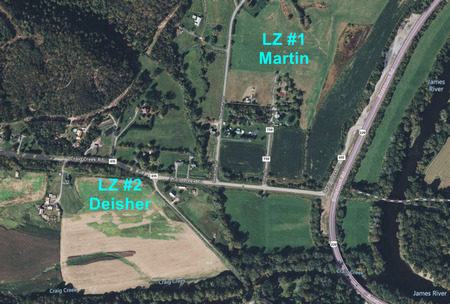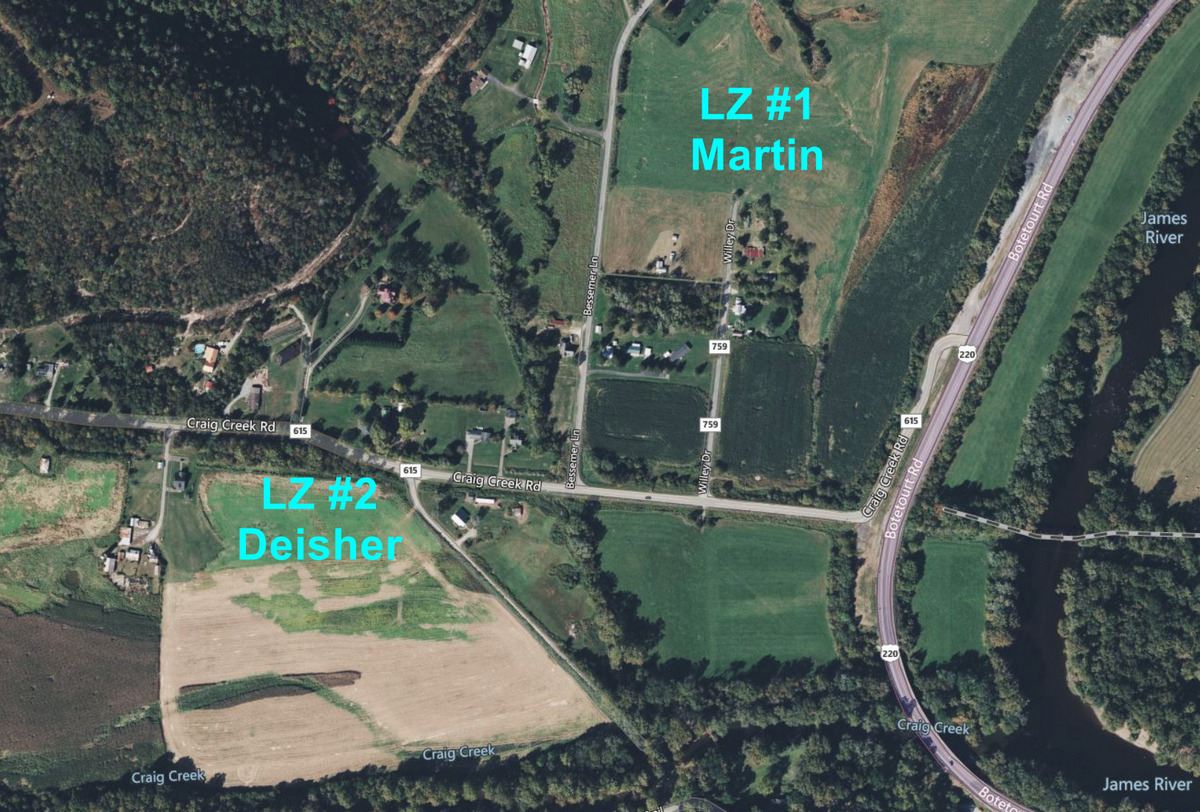 (click on image to expand)
Rules
Must be current USHGA member for legal liability and site preservation reasons.
Must have a current H-3/P-3 or higher USHGA rating. H-2/P-2 may fly under the supervision of an Instructor or Observer
Helmets must worn.
Always clear traffic and yell, "launching" before taking off and entering the flight pattern.
No use of motors from the launch site.
Dogs must be on a leash when on the launch site and landing field when pilots are preparing to launch, packing up gliders and while launching or landing.
Please post a message on the list with the total number of flights from the mountain that day.
A car going UP the mountain has the right-of-way. Do NOT back down the mountain to let someone pass since this can be dangerous and hard on your brakes.
BE AWARE
The landing zone just below launch is small and requires accurate landing skills
There are power lines in several of the farmers fields used for landing
Follow the rules of the ridge (see below)
Clear your launches and turns all around, above and below you
After landing, move your glider out of the middle of the field so others can safely land
MISCELLANEOUS
If you have a radio, please USE it. It might save a life (yours!). The official radio frequency is 151.625 MHz. It is strongly encouraged that everyone use a radio.
It may be helpful to carry a cell phone for emergencies.
All vehicles must stay on the roads and park in parking areas.
Do not park on the road or block access to the tower on the top of the mountain.
Do not drive onto or park on the launch site. Park in one of the parking lots.
The site is for day use only. No overnight camping without prior permission from the landowners.
In case of an emergency, ask for a cell phone to call 911.
DO NOT LITTER.
Please respect all landowners property. Remember that we are able to fly only with the consent of the landowners. Please treat all landowners kindly.
RULES OF THE RIDGE
Always clear your turns. See, Be Seen and Avoid.
Do not pin other pilots against the ridge. Leave enough room to turn out from the ridge.
In ridge soaring conditions, pass on the right but realize that not everyone will follow this rule.
Watch other pilot's head and eyes for clues as to the next move.
First pilot to enter a thermal establishes turning direction. The lower pilot has the right of way.
In ridge soaring conditions, the faster glider overtaking another glider, passes on the inside (ridge side).
Please stay in a counter clockwise rotation when ridge soaring. The glider on the right has the right of way.
Thermaling should be done outside the ridge soaring pattern.